Sound of Sirens Review 1
The Sound of Sirens - Book Review
David Carter has triumphed again with yet another Walter Darriteau murder mystery. Believe you me this is not my favourite genre given the gory bits, which won't disappoint here if you are into that kind of thing, but having said that I like a good puzzle and boy does this one deliver!
Carter sets the scene, two guys, the young one awaiting the old one, clandestine meeting, packet exchanged, opened, the moon setting the newly acquired handgun alight resting in the young guy's hand, the distant beat of soft rock resonating from the nearby pub.
Luke Flowers has a job to do but can he be trusted? From its horrific inception this story cleverly pulls in characters, their background, their raison d'être. Carter is a master of this, drawing on all the senses until we can hear, see, smell, taste and touch all that impinges on their variety of existence, from local to far flung places giving ethnic and cultural prominence, all successfully geared to creating substantial, believable characters the reader can't fail to bond with.
I've already met Inspector Walter Darriteau in 'The Murder Diaries Seven Times Over' (well reviewed here). He's a solid, dependable, ordinary kind of guy that's never done thinking. His mind's sharp, very sharp but is he going to crack this one, or two, or three? Yes this story moves along quickly, it's a cliché I know but I couldn't turn the pages fast enough, for this story plays with the reader, minute diversions, false starts, Inspector Darriteau sharp as the family heirloom securely displayed inside a cabinet on the wall in The State of Kerala Restaurant, Chester.
He likes dining Indian, here, it's his favourite restaurant. He knows the family well, but how well? He's 58 and lives alone, though from choice he'd rather be sharing his house with someone young and attractive like Galina his Eastern European cleaner. There's not much spare brain space for dreaming but he lets his fancy for her slip through his thinking, never does it cross his mind that there could be another out there, duplicating thoughts, fancying him.
This book is simply packed with plots and subplots given such coherence in the smooth running of the mystery as to be absolutely astounding. Carter's an astute observer, too, capturing the non-verbal interaction with skill, drawing out differing characters' thinking, be it humorous, scathing, suspicious, capricious, just to mention a few of the character traits responsible and piling in to make this book such a credible read. David Carter does indeed possess a remarkable talent, he knows just how to hook his readers and keep them.
This work is action packed, exciting, thrilling, scary, with a twist to the dénouement which can only be described as brilliant. You certainly don't have to be a fan of the genre to enjoy this one.
It's high calibre writing but then one wouldn't expect anything less from David Carter. It's meticulously researched giving substantial historical background, particularly to immigrant life and present day cultural integration, which is worth mentioning, though it does not constitute the main focus.
Indeed this sense of insight in all its variety permeates and enhances the whole story leaving the reader with a sense of satisfaction from time enjoyed and very well spent in the reading of this book. I congratulate David Carter on yet another superb tale and can but very highly recommend this book to all.
ISBN 9781482307726
Publisher: TrackerDog Media 2013
Reviewer: Margaret Henderson Smith.
© Copyright - all rights reserved
You can read another review on this book by going here
You can read a large excerpt by going here and you can return to the Home Page here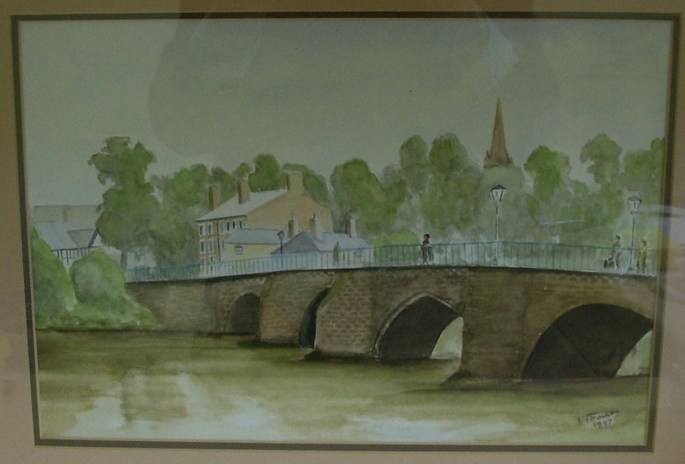 I have walked and driven across this old bridge across the river Dee at Handbridge hundreds of times, as has Inspector Walter Darriteau, and the assassin in The Sound of Sirens.
The picture was painted by I T Foulds in 1997, now part of the writer's collection.
If you would like to read an excerpt from this book please go here
If you would like to know more about the book please go here