The Bunny and the Bear - A Cold and Frosty Winter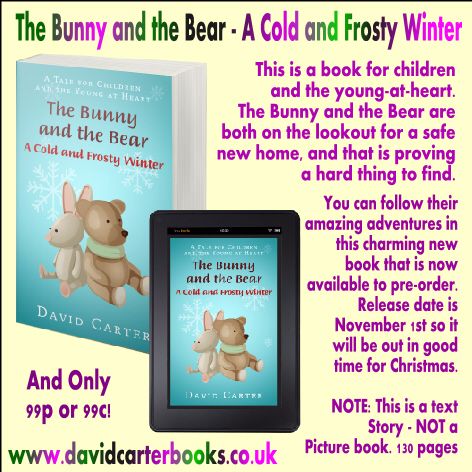 The Bunny and The Bear - A Cold and Frosty Winter
"The Bunny and The Bear"
is OUT NOW!
AVAILABLE on Amazon, iBooks, Kobo,
and Barnes and Noble as an ebook
and out as a paperback too!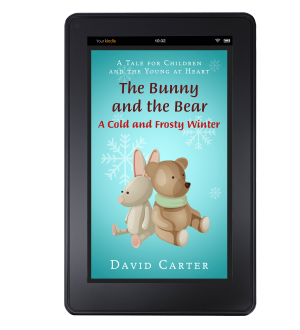 In "A Cold and Frosty Winter" both the Bunny and the Bear are desperately in need of a safe and warm new home. Failing that, the Bunny is destined to spend his life on the dusty tables of antiques fairs, as he is hauled around the country, seeking a new owner, while the Bear's circumstances are even worse.
His sea captain owner is more than a little eccentric and is soon to depart for Australia, and after seeking and failing to find new accommodation for his faithful bear, is considering throwing him in the bin, as a last resort, and leaving Bear all alone to his fate.
Can Bear avoid the humiliation of being publicly bin-dumped? Can Bunny find a new home before it's too late? The only way you will ever find out the truth of it is by acquiring and reading the story.
One thing is for sure; both the Bunny and the Bear are determined to enjoy exciting new adventures, as they embark on a new era in their colourful lives.
Please note that this is a text based story book, and not a picture book. It's a tale for children of all ages, and the young-at heart. The book runs to around 160 pages and being the first book in a series is offered at a special discounted price of just 99p for an ebook copy.
"The Bunny and the Bear – A Cold and Frosty Winter" is OUT NOW. The book will be available on Kindle, Nook, Kobo, and Apple iTunes/iBooks, and most other well known ebook platforms.
Here are some more BUY links for you:
To Buy on Nook at Barnes & Noble Click here
To Buy on Apple iTunes/iBooks Click Here
To Buy on KOBO Click Here
Also available on many other ebook platforms
Please Note: This is a story book, NOT a picture book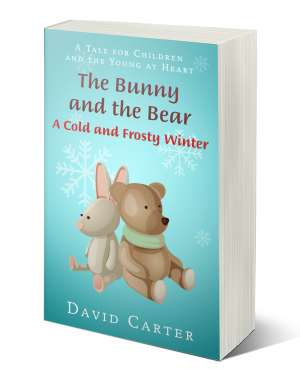 The Bunny and The Bear - A Cold and Frosty Winter