The Twelfth Apostle
"The Twelfth Apostle" is now available as an ebook.
You can also subscribe to my occasional free booksy newsletter and receive special deals, freebies and hot offers only available to subscribers, and you can do that by going here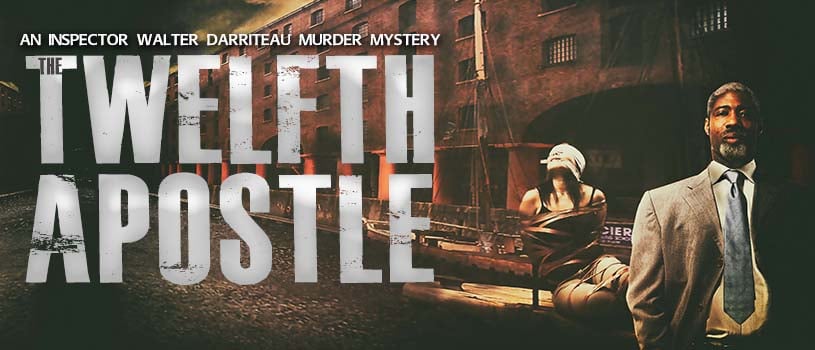 "The Twelfth Apostle"
There's a lull in serious crime in Chester. Sergeant Karen Greenwood is invited to a smart lunch in a city centre hotel where a successful moneymaking scheme is being promoted.
Her boss, Inspector Walter Darriteau, receives a late night telephone call from a long-ago superior from Scotland Yard. He needs an urgent favour, and he needs it bad.
The body of a young woman is dumped outside the swimming baths in the middle of the night, but who is she, and who is responsible?
A young man living with aging parents, struggling to make a living, goes missing without any warning, and for no apparent reason.
Four seemingly random events that couldn't possibly be linked, but one thing is certain, the lull in serious crime is most definitely over. Walter Darriteau and his team are going to be mighty busy.
What they say about Inspector Walter Darriteau:
"I cannot recommend this book enough. It is fun, exciting, humorous at times, and bloody and shocking at all the right moments."
Angie Martin - Author of Conduit & False Security
"I can't say enough about this wonderfully crafted Inspector and his investigative team, or what a delight it was to read a novel that engages the reader from the first page to the last. David Carter is definitely a gifted writer."
Goodreads.com Review
"The Twelfth Apostle" is a meaty novel too, running to around 500 pages, so if you enjoy English murder/mysteries, and want something that will keep you occupied for some time, then "The Twelfth Apostle" could be just the thing you are looking for.
It's a standalone novel too that can be read just as it is, but if you would like to check out the previous two Walter Darriteau cases then don't miss "The Murder Diaries – Seven Times Over" and "The Sound of Sirens", while a fourth one, "Kissing a Killer" will be out soon.
Sample of the book:
Here's a sample of the book for you to check out - the first three chapters to whet your appetite. Go!


Chapter One
Kit Napoleon woke up and scratched his neatly trimmed grey beard. He'd slept surprisingly well despite the fact he had a big day ahead. He sloped from the bed and went into the bathroom. Glanced in the mirror. Pulled out his tongue. Didn't care for what he saw, and put it away.
Ran his bear-like hands through his overlong grey hair. He didn't mind the grey look, he'd long since grown used to it, ever since the occasional grey hair had sprouted while he was still at grammar school, and that was almost thirty years ago.
He began brushing his teeth, all the while rehearsing the brief but witty speech he knew he would be expected to deliver. Casson & Cates, publishers, paid him well, but they needed to, for they sure as heck took a big enough slice of his earnings.
Kit thought ahead to the celebratory luncheon at the Grosvenor Hotel in the centre of Chester that had been laid on to publicise his new book Make Money While You Sleep, glossy hardback, big page count, big ticket price.
It would be his eighth book, and advance orders had already ensured it would enter the book charts in the top five. C & C, as everyone knew them, were still hopeful it could blockbust its way straight in at the top of the pile, and it wouldn't be the first of Kit's books to do precisely that.
Kit Napoleon smirked at himself in the glass. Winked even. Life was truly sweet, and what made it all the better was that things hadn't always been that way.
He'd tried umpteen avenues as a young man to find fame and fortune and glory, but it was only when he began writing self-help books under his nom de plume of Kit Napoleon, that things really began to change for the better.
So taken was he by the success he changed his name by deed poll, and Kit Napoleon became his legal name, much to the chagrin of his parents who had often been somewhat baffled by their offspring who always appeared oddly uneasy in his own skin.
It was true, Kit had never felt secure and comfortable as Keith Higginbottom, a fact he would often allude to in his inspirational speeches where he would invariably include the line: People judge a book by its cover… and a man by his name, and for some reason that always brought a guttural laugh to his devoted followers.
A hundred pounds a ticket they were paying for their celebratory lunch and they had sold out within four minutes of being put on sale online. C & C whinged that the punters would have paid five times that amount, but Kit grinned at the cameras when asked about it, and said that it was just one of his tiny ways of repaying his growing army of believers and readers.
Parkgate prawns, Flintshire lamb, Cheshire ice-cream, and a more than decent looking hock, light but surprisingly potent, would be set before the diners, including Kit, and he was looking forward to the hock most of all, for he knew it would put him in the mood to charm the gathering, and he would use the moment to let slip a teaser piece of news about the forthcoming sixth level that would have them all salivating, as they perched on the edges of their seats, and became used to the thought of producing their credit cards, while already thinking of the untold riches that would surely become theirs.
Kit Napoleon was a genius – everyone said so, a phenomenon even, and it was quite true, there had never been anyone before quite like Kit Napoleon.
He glanced at himself in the glass one final time. Navy suit, thin grey stripe, perfect white shirt from the best London maker, gold cufflinks, KN motif, royal blue tie, again bearing the understated gold KN initials, brilliantly knotted, good hair, grey, but neatly refreshed and parted, thoroughly refurbished and whitened incisors that would surely soon be on full display, trimmed short grey beard hiding his slightly fattening face, bright, light-brown eyes, and he was ready for anything.
Jennifer shouted through, 'The car's here, Kit!' Let them wait a moment longer, he mused, indeed it would amuse him to keep them all waiting for a good fifteen minutes yet.
He'd done that before, and no doubt he would do it again. He fiddled with his cuffs and made certain the links were just so, and then he was indeed ready. He turned about and headed downstairs to collect his calf leather bag.
It would be a very fine day in more ways than one, and he couldn't wait to enjoy it to the max.


Chapter Two
Inspector Walter Darriteau had given his sergeant, Karen Greenwood, the day off.
She had some kind of fancy luncheon appointment, the kind of thing that Walter would go to great lengths to avoid.
But for once her absence wasn't important because there had been a lull in serious crime in Chester, and the powers that be considered it a good time to get some of the much-owed holidays out of the way.
True, there was still crime right enough. Stolen cars, shoplifting aplenty, that had almost become a national sport, drink driving, hooliganism, minor spats in pubs, they were all still there in abundance, just as they were in almost every developed city on the planet.
But not crime with a capital C, there had been a dearth of that since the Luke Flowers and Maaz Khan case had been put to bed, though Walter wasn't so sure he liked the new quiet and peaceful ambience that threatened to put them all to sleep.
In truth, he knew it wouldn't last, the undeclared amnesty, and fact was, he didn't want it to last either because he only had so many serving days left, and he certainly didn't want them wasting away on paltry nonsense.
The large phone before him burbled into life. Walter snatched it up. 'Yes!' It was the switchboard person advising him that there would be a fire drill in an hour or so, and did he know where everyone was supposed to assemble? Fact was, he didn't, and the girl, young woman, proceeded to give him a rundown on what was expected, throwing in a comment about Mrs West, Walter's boss, who was also away, on leave for the week, that she was most insistent that the drill was carried out to the letter, and that a full report should be on her desk for her inspection on her return.
While the girl, young woman, was relaying this vital information, his other phone rang. Not one of the deskbound jobs, but his private mobile secreted in his deep trouser pocket, and that alone was something of a rarity.
It was ringing that silly tumbledown ringtone that he hated so, but his lack of knowledge of the contraption's workings had so far meant he was stuck with it. The girl, young woman, was relaying the location where they must meet. 'Do you have that?' she asked, slightly impatiently, as she had the distinct impression she was not being listened to.
Walter pulled the mobile from his trousers and looked at the screen. Unknown Caller. He pressed the button and someone, a man, an older man, deepish voice, though not as deep as Walter's, said. 'Darriteau!'
Walter did not like being called "Darriteau". He was happy with Inspector Darriteau, Mr Darriteau, Sir, Guv, Boss, or even plain Walter, but "Darriteau" was how, in his eyes, the gentry addressed their manservants, and Walter was not a servant to anyone, well, maybe the Force, but that was out of choice.
He considered it below the belt, and didn't approve of it.
'Have you got that?' asked the girl, young woman.
'I'll call you back,' said Walter. 'You will not!' said the man.
'Are you talking to me?' asked the girl.
'Yes, young lady!' said Walter, and he cut her off.
'Don't call me young lady ,' said the deep voiced man, laughing at his own little joke.
'Sorry about that,' said Walter. 'Okay, let's start again, shall we? Do I have your undivided attention, Darriteau?'
'Yes! And you are?'
'Chief Superintendent Wortley.' Walter did not know a Chief Superintendent Wortley, but somewhere at the back of his mind, something very vague and distant, it did strike a chord.
'You don't remember me, do you?' 'Almost,' said Walter, truthfully, for he was still sorting through the myriad of acquaintances he had made through his long and varied career.
'Scotland Yard, man, years ago!' Ah yes, thought Walter. Coins dropping into slots, but he was a mere sergeant back then, Wortley, that is, but still nonetheless Walter's boss from those long ago days, one of Walter's first bosses, come to think of it, more than thirty years before, when Walter had been attached to Scotland Yard. Melvyn Wortley, to give him his correct name, or even Melvyn Leslie Wortley, if you wanted to be precise and annoy him, because he hated the Leslie part, that's the fella. What could Chief Superintendent Melvyn Leslie Wortley possibly want with Walter Darriteau after all this time? His voice was the same standard estuary English, south-east England, smart cockney, Wortley certainly thought that, liked to flash it up a bit, the accent that is, if Walter's memory served, maybe an octave or two lower now, but he always did like a smoke.
'The thing is, Darriteau, I need your urgent help on something.' 'Oh?'
'We have a little problem down here, I'm still attached to the Yard, by the way.'
What did "attached" actually mean, pondered Walter. Could be any number of things, could hide any number of things too.
'I'm now the head of the WPP.' Walter exhaled loudly. That made things marginally clearer.
'And, as I said, we have a wee problem.'
'Namely?'
'Compromised security.'
'In what way?'
'It's a little embarrassing.' 'Security breaches usually are.' 'Yes, well, there's no point in denying it. It's happened, so we just have to have to get on with it and make the best of it.'
The best of what exactly? thought Walter. The guy had always been a windbag. Walter wanted to scream Get to the bloody point, man! but somehow he resisted. Instead he found himself saying: 'Go on.'
'The locations of the safe houses… non secure, not any more.'
'Oh dear. Then you have a big problem.'
'We do, and that's why I need your help.'
Walter did not like what he was hearing and said, 'How come you are calling me?'
'Now that's an interesting thing, Darriteau. We ran a computer search, all former colleagues, going back yonks, ex members of the team, so to speak, strict criteria, - still serving, unmarried, reasonable home, no commitments, honest and reliable, trustworthy, and the central brain threw out just twelve names. Only twelve, man, can you believe it? And the funny thing is, we need twelve people, isn't that a coincidence?'
Walter tried hard not to yawn, but failed.
'Are you all right up there?'
'Fine, sir, yes sorry, late night.' 'Yes well, we all have to work late nights occasionally. Nature of the beast, Darriteau, as you well know. But going back to what I was saying, if you must know, you were the twelfth and last Apostle. You only just made the cut!'
'Lucky me,' Walter muttered under his breath. He still wasn't sure what his old boss, Melvin, was asking, and when he didn't understand anything he had never been afraid to ask. Got him into trouble many times throughout his career, that questioning thing, but he would always ask, always better than acting dumb, keeping the head down, looking for a quiet life, that was never Walter's way. 'Chief Superintendent, would you mind explaining exactly what you want from me?'
'Sorry, I thought I had.'
'Not quite,' said Walter, straining to be polite.
'I'd have thought it was obvious. You're an intelligent man, if memory serves. I have twelve people I have to get out of London today, pronto pronto, away from our unsafe safe houses, and into safe ones… like yours.'
'You mean, my home?' 'That's the ticket.'
'But I can't…' but before Walter could say anymore, Melvin was talking again.
'I've run all the checks, you live alone, your house is perfect, checked it out on Google Earth, not too working class, not too a la la, well away from the big smoke, spare bedrooms aplenty, very few callers, easy to defend.'
Easy to defend? What the hell did that mean, and what on earth was he being roped into?
'They'll be with you around 7pm. One Protector, and one Protected. It'll only be for a few days, a week tops, probably less. It'll be a breeze.'
'But I can't…'
'Oh, but I think you can, Darriteau, and think of the big gold stars that would sure to be stamped on your record. Helping out Scotland Yard at such short notice: The man couldn't have been more helpful, I can see that glowing comment on all your records right now. You might even land that long hoped for promotion that I am sure you deserve.'
Truth was, Walter did not want promotion, he never had, not really, he preferred to remain an Inspector, a Detective Inspector, where he could concentrate on what he did best, detection work, he was a full time detective, and wished to remain so. Further up the greasy pole, and he would inevitably be pushed into politics and pandering and faffing about with committees and decision making and red tape, and meddling bodies, alive and inert, and worst of all, budgets and finance and blasted administration and damn form filling, and God alone knows what else.
'Now listen, Darriteau, this is strictly between you and me, understand? Secrecy is the key. We have already had one breach and there must not be another. Don't mention anything to your woman boss, and nor to that sexy sergeant of yours either. I know they are both away today and that's ideal. Here's my number, call me anytime you like,' and Melvin rattled off a mobile number. 'Tell no one! Got that?'
'I hear you.' 'Good man!' 'Anything else I need to know?' 'The Protector's name is Stevie Cliffe, sergeant; he's a good lad. Been around a bit. Armed of course.'
'And the Protected?'
'Stevie will tell you all about that when he gets there, all you need to know anyway.'
'7pm you said?' 'You got it, Walter. And they'll need feeding too, nothing too fancy, Steve will have all the official chits, put in a claim, you'll be reimbursed the accommodation costs, semi-generous they are too, you don't have to worry about that.'
Semi-generous, mused Walter. What the heck did that mean?
'Any more questions, Darriteau?' 'None.'
'Good! Just remember, this is TOP secret, so let's keep it that way. People's lives are at risk.'
What a pompous oaf he was, mused Walter.
'Anyway, must dash, eleven more Apostles to brief,' and with that, Chief Superintendent Melvin Leslie Wortley was gone as if he had never been there, the only evidence a scrawled telephone number on Walter's desk blotter, and scrambled thoughts rushing around Walter's creaking brain, crazy thoughts that no one would ever get to share, and probably as well. He stood up and ambled across the quiet office and sat at the screen and signed into the main police computer and searched for DCS Melvin Wortley.
There was a lot there, and a great deal of reading to catch up on.
Chapter Three
Gregory Orlando stretched his well-muscled arm around the beautiful blonde and stepped forward to meet the main man.
Kit Napoleon liked the look of this couple. The guy, wide and clean cut and smiling, and the blonde, young, fit and beautiful, just the kind of people he was always keen to see at his soirees.
One of Napoleon's minions made the introductions. 'This is Gregory Orlando,' he said, looking down at his notes. 'He's been with us for ages, now a level five man.'
'Greg!' smiled Kit, reaching forward and shaking the proffered hand as if they were old buddies. 'Strange we have never met before, but we have now, that's the main thing.'
The minion glanced at his notes again. 'I don't seem to have a note of the young lady's name.'
'Oh, sorry,' said Greg. 'This is my girlfriend, Karen Greenwood.'
'Hi Karen,' said Kit, in the mid Atlantic drawl he'd almost permanently adopted. 'So glad you could be here with us today,' and he took her hand and pulled her closer and air kissed her twice, mwah mwah.
Karen grinned, somewhat awkwardly, and glanced at Greg, and tried to return the show of mock affection that they all seemed to share and perfect. Her nose was assaulted with thick and fruity man-cologne that Kit bought by the bucket load, and marketed too, that was only to be expected, never waste an opportunity to sell sell sell, and expensive-looking KN motif bottles would be on sale in the foyer afterwards at £99.95 a pop, and tiny bottles they were too.
Exclusive, they liked to say, and to some extent they were, you couldn't yet buy them in the shops. Karen recognised the aroma immediately because Greg was invariably daubed in the blessed stuff.
'I am just in the process of signing her up,' said Greg, trying hard but failing to think of the fat commission cheque that would come his way.
'Good! That's what I like to hear,' said Kit, grinning and smirking at Karen as if they shared secrets that no one else knew. 'Make a note of her name and address,' said Kit to the minion. 'See if you can get her on the Dubai party.'
It was a line that Kit used a great deal to impress would-be customers, and in due course the flattered newcomers would discover that: Unfortunately all the tickets for Dubai have gone. Just for once Kit might make an exception in her case for she would look good on any trip, and would certainly bring something new and vibrant to the party, even if they had to bring the incredibly dull big bloke with her too.
Greg bent forward and cupped his hand around Kit's ear and whispered, though loud enough that the others could hear, 'We'll all have to be on our best behaviour today, Kit. She's a policeman.'
Kit guffawed. 'She doesn't look like a policeman to me! Does she to you?' he asked the sidekick.
'No, no, not at all!' said the minion, anxiously glancing at his schedule again, for each individual meet-'n'-greet hoo-hah was only allocated three minutes. Someone else would have to be cut short. 'Sorry!' said Greg, looking sheepish, something he did quite often, 'Policewoman I mean, course I do, you know what I meant, she's a sergeant.'
Karen didn't worry about that. It wasn't the first time he'd introduced her as a "policeman", and anyway, she was too enthralled with Kit, who winked at her through incredibly sparkly eyes, for an older man, and then he had turned away and was kissing the hands of a pair of blue rinsers who were so taken with the charm of Mr Napoleon, and his wonderful money-making plans and books, and they were in, lock stock and barrel, one hundred percent.
'Shall we get a drink?' said Greg. 'Sure,' said Karen. 'White wine spritzer.'
And they went off toward the bar, as Karen glanced back over her shoulder and saw Kit charming his audience. She watched him glance away from them and back at her, and wink.
I hope you enjoyed that taster. You can buy the whole book, and it's a big thing too around 500 pages, for not much more than the price of a Sunday newspaper or a high street coffee, so of course I hope you will purchase a copy.
I need the money! I have a big gas bill to pay!!!
Tags: Anti-slavery, human trafficking, modern slavery, modern day slavery, crime thriller, thriller, crime fiction, murder mystery, British crime fiction, Enflish crime fiction, crime novels, crime books,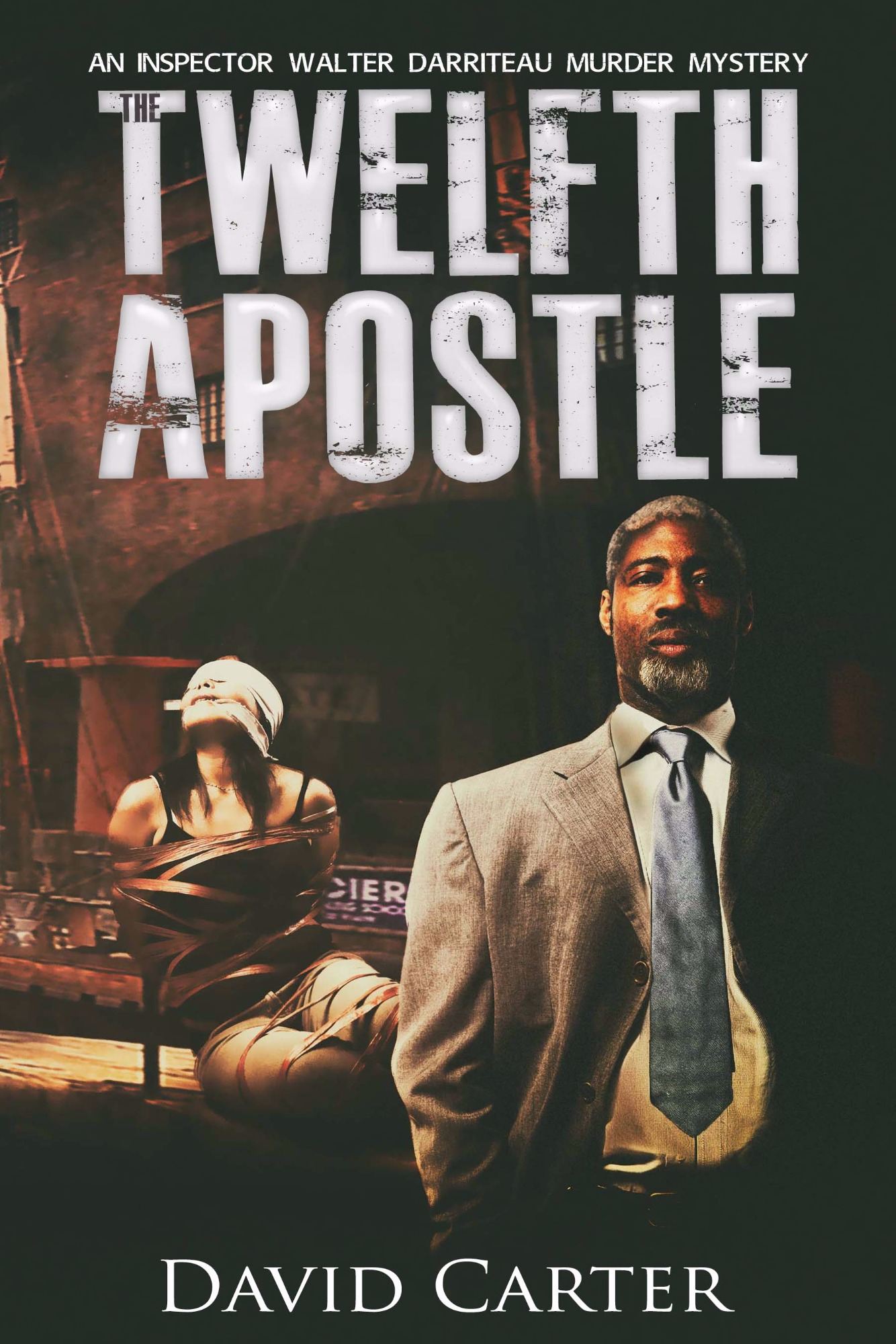 The Twelfth Apostle is a socio-political crime thriller set in present-day England. The story follows Inspector Walter Darriteau and his team, as they make sense of four apparently unconnected events and delve into a world where ruthless killers and crooks thrive.
Fans of John Grisham and John le Carré will love this murder suspense thriller that will keep you reading all night.
I'm Loving Books.com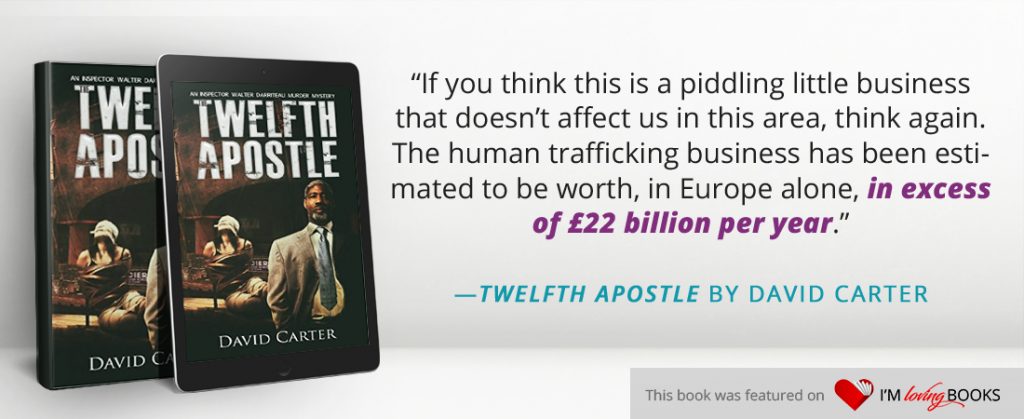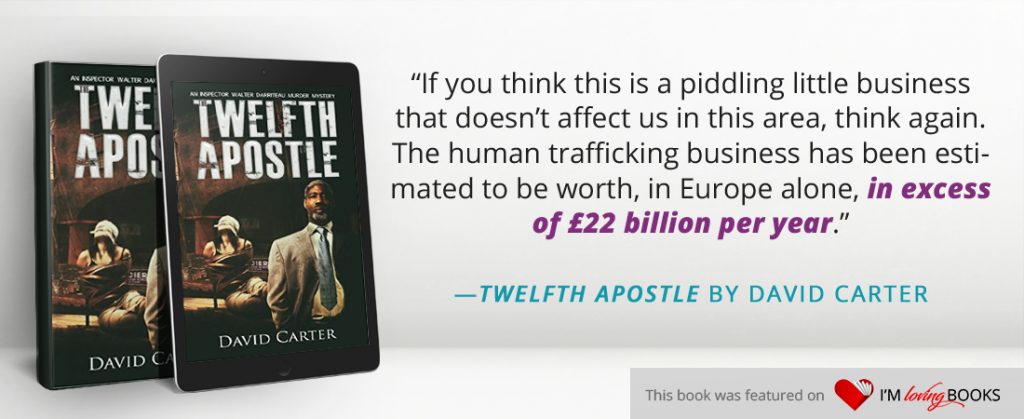 "The Twelfth Apostle" is now available as an ebook