The Meredith Hawkes Thrillers
The Meredith Hawkes Series of Thrillers
Book II
RUNNING FOREVER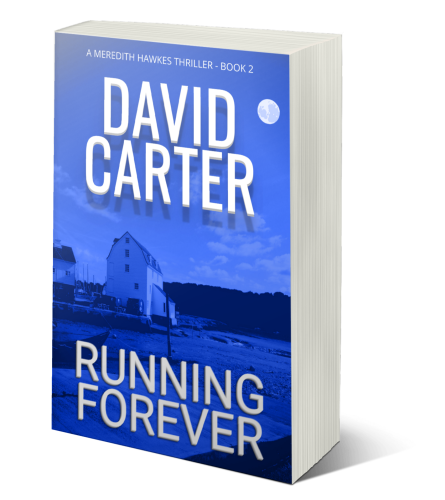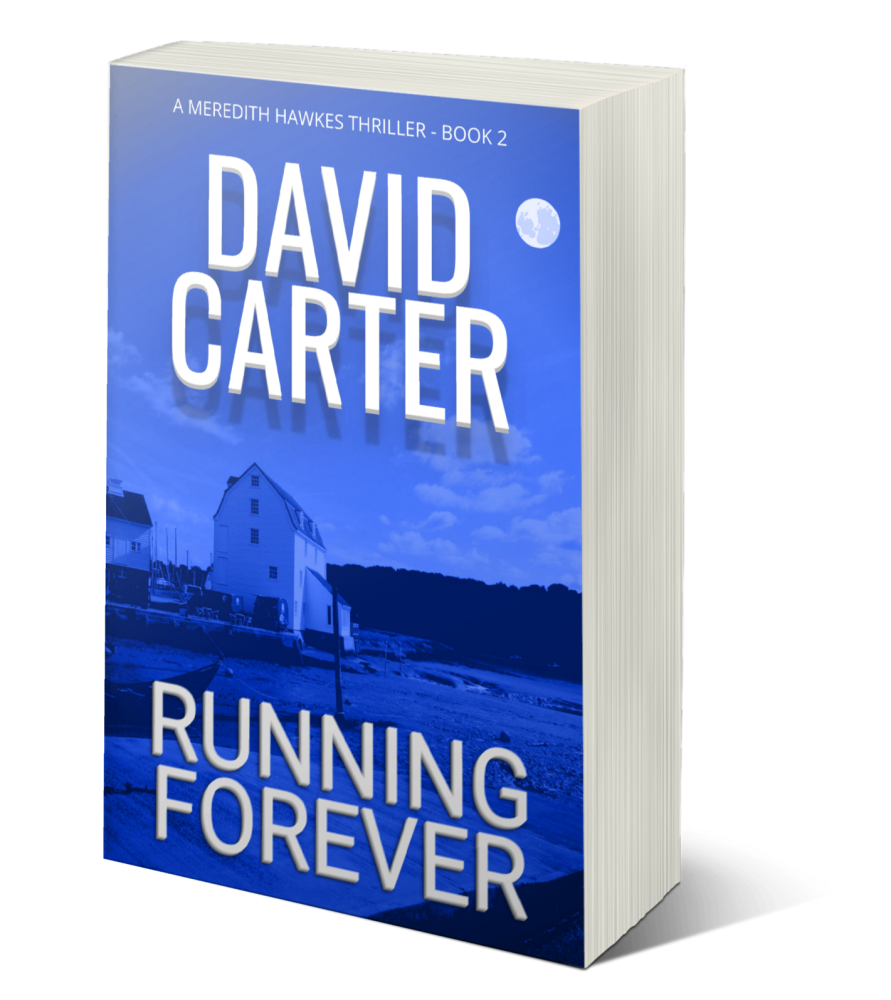 The second book in the Meredith Hawkes Series, "Running Forever", is out now,
and can be ordered today here:
"Running Forever" is also in Kindle Unlimited (KU) from today.
Here's the blurb:
Meredith Hawkes is on the move again, to Woodbridge in Suffolk.
After he's found a bed for the night, he searches for a town-centre pub serving food, and goes inside. There's a striking young woman propping up the bar, laptop, tablet, and newspaper spread out before her.
Hawkes buys a drink and orders food. The girl ignores him. A broad man comes in, hustles up to the girl, and kicks off, telling her to keep her nose out of his affairs, or she'll regret it. He's sure upset about something, but that's it, and he's gone as fast as he arrived.
Hawkes sympathises with the girl, but she imagines he's trying to pick her up, and is abrupt with him. He shrugs his shoulders, and moves away to sit in the corner to eat his dinner.
Ten minutes later, the girl packs away her things, and makes to leave. But at the door, she pauses and approaches his table, and apologises for being rude. Water off a duck's back to him, as he points to the opposite chair, and she accepts the invite, sits down, and orders food.
She has a story to tell, and needs help in unravelling it, and it isn't long before she discovers he's just the kind of guy she can share her troubles with.
So begins "Running Forever", the second in a series of Meredith Hawkes stories, and one that contains massive criminality, murder, and death, and it's no surprise that everyone Hawkes meets is not as they first appear.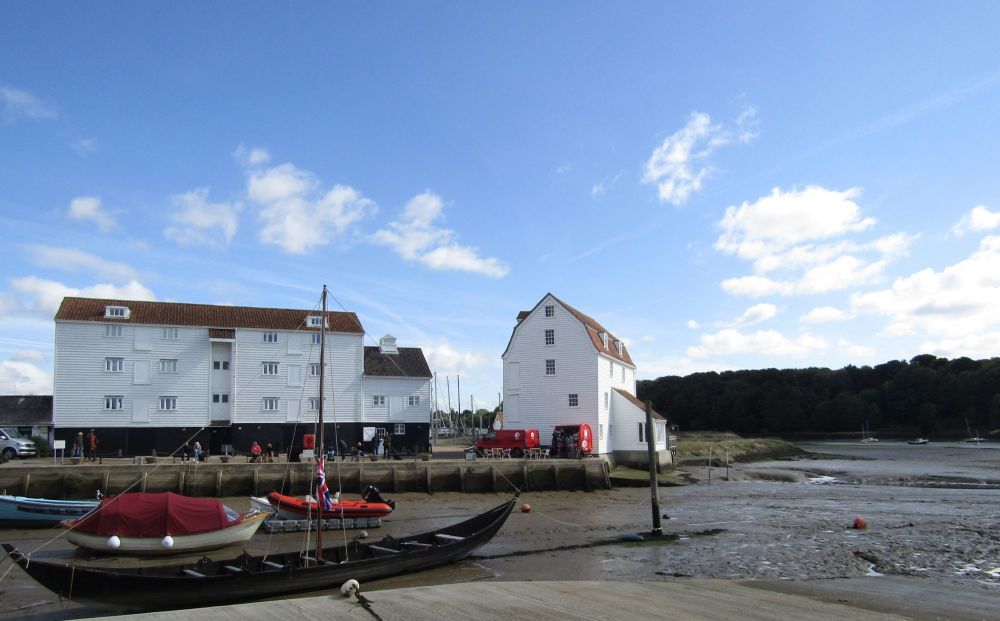 Above: The Tide Mill in Woodbridge at low tide, and as you can see, this time, in daylight.
Woodbridge is a beautiful little riverside town and is well worth a visit.
It boasts a mainline railway station, set right on the river, so getting there is relatively easy.
Also in the back of "Running Forever", readers will find the first chapter of Book III in the series,
"Blood is Amazing", so look out for that.
Order the Ebook from Amazon here:
The paperback edition is scheduled to be out for Christmas.
And if you are a KU member, Kindle Unlimited, you will be pleased to know,
all the books will be enrolled in that programme.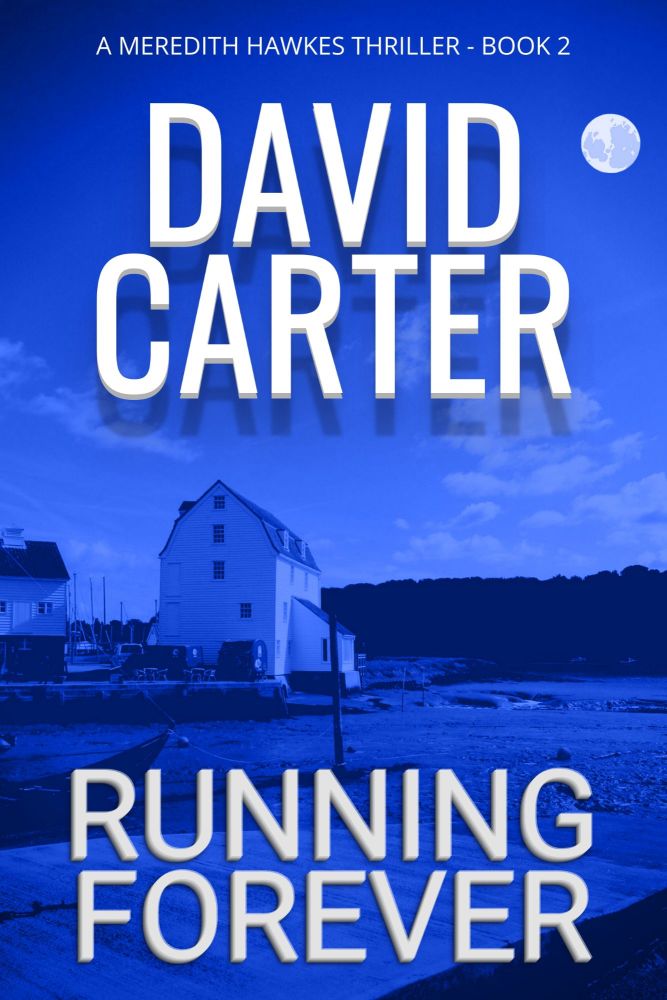 ********
Book I in the Meredith Hawkes Series.
"Don't Forget to Breathe".
This new series of thrillers featuring Meredith Hawkes begins with the first book in the series:
"Don't Forget to Breathe".
Something new and different…
The first book in David Carter's new series, "Don't Forget to Breathe" was
released in August 2022, the second one is out in September, with a release date yet to be announced for Book III.
Here's the blurb:
"Meredith Hawkes has just left the Royal Navy after serving twenty years. His father, brother and sister are expecting him back at the family's detached bungalow up on the Wirral, but Hawkes has other ideas.
He wants to travel, not across the globe, but to the hundreds of small country towns spread across England, places he has never visited before.
Hawkes reckons it will prove a quiet relaxing time. He feels truly free for the first time in years, and perhaps he might meet the woman of his dreams.
But it doesn't turn out that way.
It seems rural and coastal towns have a story all of their own, and Hawkes has a knack of stumbling across people and events most people would choose to avoid.
"Don't Forget to Breathe" is the first book in a new series of British thrillers from the creator of the Inspector Walter Darriteau stories."
Pre-order now and you won't be charged until the release date of August 18th 2022.
You can pre-order here:
Keep an eye on this page for news of books 2 and 3 in the series which are both scheduled for release in late 2022.
********