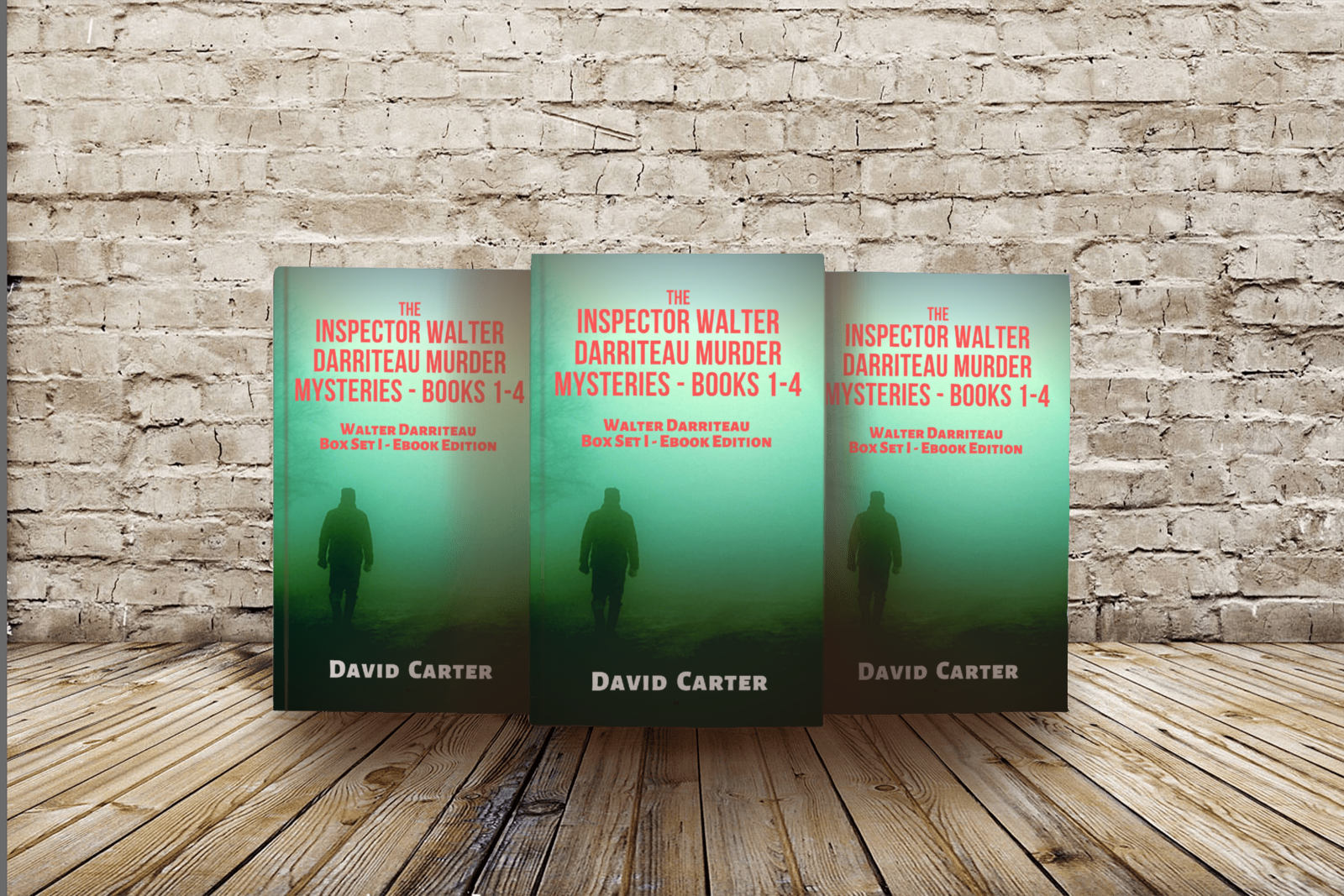 NOW AVAILABLE TO PRE-ORDER
This Box Set features the first FOUR Inspector Walter Darriteau cases.
OUT NOW! On Ebook only. ORDER TODAY - READ TODAY!
One reader recently wrote:
I do also enjoy Peter James books but I like yours better being set around Chester !! Ha ha
I don't know about that - Peter James is a fantastic writer and if I had just 1% of the international success he has enjoyed I would be over the moon!
"The Murder Diaries – Seven Times Over".
There is a killer on the loose in the ancient city of Chester. A random killer, a serial killer, a maniac who kills without motive.
Inspector Walter Darriteau and Sergeant Karen Greenwood are hot on the case, eager to apprehend the killer before he or she strikes again.
What they say about The Murder Diaries:
A page turning thriller. This was the first book I have read by Mr. Carter, but it will not be the last. Well edited. The reader steps into the mind of the serial killer which was quite fascinating. The story ended well, each character was well described and I could "see" each of them.
Wow! So many twists and turns! Then when the culprit was revealed...such an "aha!" moment. Love English writers and English slangs. I chuckled a lot. Great read!
"The Sound of Sirens".
Luke Flowers has always been a small time crook and he sure started young. Copying software, dealing drugs, living on the margins of society, playing the big man, forever in trouble with the law, going nowhere until he opts for a major career change.
Killing people pays well, and the respect coming his way, and the girls, is a drug in itself.
He's chosen his path, seemingly oblivious to where it might lead, as the sound of sirens echoes across the city in this gritty thriller that keeps the reader riveted till the end.
What they say about The Sound of Sirens:
I cannot recommend this book enough. It is fun, exciting, humorous at times, and bloody and shocking in all the right moments. If you're salivating for a new crime-solving hero, look no further than Inspector Walter Darriteau.
David Carter has triumphed again with yet another Walter Darriteau murder mystery. Believe you me this is not my favourite genre given the gory bits, which won't disappoint here if you are into that kind of thing, but having said that I like a good puzzle and boy does this one deliver!
"The Twelfth Apostle".
This chunky story takes the reader deep into the dirty world of human trafficking and modern slavery.
When a young woman's body is dumped outside the swimming baths, Walter's there in a flash.
Subplots aplenty, The Twelfth Apostle is a roller coaster ride as the reader sits on Walter's shoulder and sees the case unfolding.
What they say about The Twelfth Apostle:
I don't usually read crime/thrillers but I do like a good gripping plot and really believable characters. This book has both and I was particularly impressed by the details of places from Hong Kong to Liverpool - the writer definitely knows England's northwest inside out. Inspector Darriteau manages to be hardworking, clever and endearingly human, better than a lot of TV detectives I've seen.
One of the best Walter Darriteau stories yet! Thoroughly enjoyed this, so enjoyable and easy to read. Walter is by far my most favourite Inspector of any murder mystery I've read, thanks for another brilliant book!
"Kissing a Killer".
In a remote spot by the twisting River Dee an old caravan bursts into flames and a young woman perishes. But is it an accident, suicide or murder?
In another part of town middle aged Belinda Cooper has given up on men. They are more trouble than they're worth. During a thunderstorm she detects an intruder in her house.
Belinda's a feisty woman, a Cheshire Hunt veteran, and reverts to hunting mode, as the intruder becomes hunted.
Walter is on the case - a thrilling mystery that will take him to places that even he can't imagine.
What they say about Kissing a Killer:
Having read all of David Carter's books this is without doubt the jewel in the crown. The story line is full of intrigue and suspense. It is a real page turner. I could hardly wait to find out the truth but the plot took many twists and turns before a successful 'collar' by our hero Walter. Can't wait for the next case.
It's a test of wits this one for those who enjoy a good detective story, spiced with occasional humour, it was good to be able to identify with the human element, bringing the characters to life and making it a well-rounded read.
David Carter has created a character in Inspector Walter Darriteau who lives long in the memory.
The books grab the reader from the start with snappy dialogue, a fast pace, and incorporate a sense of humour too.
Great value at 1475 pages, (you get all 4 books) and at more than 30% off the normal retail price, what is not to like?
Box Set Available in Ebook only.
Now available to pre-order - click on the links below to order. OUT NOW!
Grab your copy here today
OUT NOW! On Ebook only. ORDER TODAY - READ TODAY!
Thank you for you interest in my books.