The Murder Diaries Seven Times Over Review 1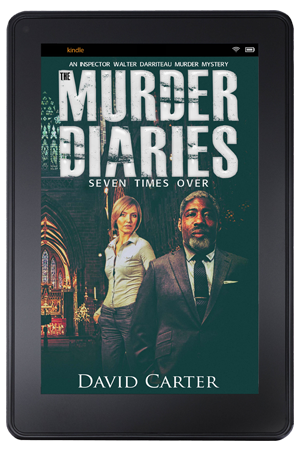 The Murder Diaries – Seven Times Over - Book Review
From the first moment that I picked up and started reading 'The Murder Diaries Seven Times Over' by David Carter, I was HOOKED. The jaunty writing style of the author and the intriguing progression of the storyline held me 'spellbound' - a real 'page turner' of a book.

The book opens with a callous and fatal 'hit and run', the first of many random murders - seemingly 'unconnected', but knowingly linked - feeding the imagination and immediately drawing me in, eager to know more, wanting to know more, and needing to know WHY - and the intriguing game was on - between the hunter and the hunted.
Throughout the cleverly woven fabric of the storyline, the characters 'emerged' and took form; making me KNOW them, making me LIKE or DISLIKE them, making me WANT TO KNOW what would happen to them, and best of all making me CARE about them.
Through the chilling perspective of the killer and the ruthless determination of the pursuer, in the form of Inspector Darriteau, David Carter manages to paint a memorable picture throughout this book; sometimes moving, sometimes shocking, and sometimes so funny that it had me laughing out loud - a whole gambit of emotions in this thoroughly entertaining and unpredictable book - and like all the best authors, leaving the REAL SHOCK to the end.
A very well written and highly recommended read - I couldn't put it down.
Review written by the Girl With A Hundred Names.
TrackerDog Media 2013
You can read another review on this book right here now by clicking here or you can start reading this book right now for free by taking a look at this page