Animals of the New Forest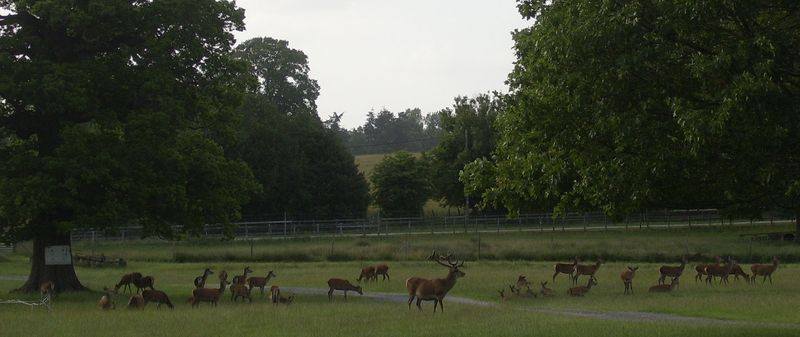 This herd of red deer were photographed almost in the centre of Burley in the New Forest
The Animals of the New Forest in Hampshire
If you are interested in animals and haven't yet visited the New Forest in Hampshire, then you have a big thrill in store.
There is something to see and do in every month of the year, but you might like to consider June, to get the benefit of the long days, and of course the children are not yet on holiday, so everywhere is not quite as busy as say, July or August.
Where to stay?
If you are coming by rail then Brockenhurst is the place for you, or maybe Sway, Lymington, or New Milton, or even Christchurch which is slightly further on, though you will need to get a local stopping train to alight in Sway or New Milton.
If you are coming by car
then you can choose anywhere you like, including Fordingbridge, Ringwood, Burley, Lyndhurst, Beaulieu, Downton, or even a smaller village like Bransgore.
Another good time to come might be October when you could possibly witness part of the Drift – the time when all the semi wild ponies are rounded up for checking and marking. Beaulieu Road station is a good place for that, but do remember to keep safety in the forefront of your mind, especially if you have children. Thundering herds are not to be messed with!
So what's the history of the forest and the Drift?
King William the First originally established the New Forest shortly after he invaded and conquered England in the year 1066. He set up the forest as his own personal hunting ground, (lucky him!) and it has been a wild open space ever since.
The New Forest is situated in west Hampshire stretching from the Wiltshire border in the north, right down to the coast just east of Lymington, while the west side of the forest is bounded by the natural border of the very pretty river Avon.
These days the Forest runs to something above 37,000 hectares and within that area thousands of wild ponies and deer (several different types) run pretty much unhindered.
Add to that the hundreds of cattle that are turned out on the common land, plus pigs at certain times of year too, to make the most of the acorn fall and to save them from poisoning the ponies, and the donkeys too, and the Forest is a rare oasis of wild life, and something of a surprise in this modern age, surrounded as it is by the large cities of Southampton, Salisbury and Bournemouth.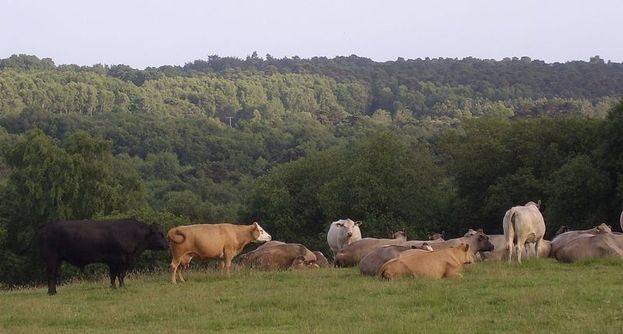 I came across these fabulous beasts at a lovely spot between Bransgore and Holmsley. I was thinking of taking a short cut across the field but decided against it. The big black fellow is a bull and they do not like to be disturbed by strangers. (Who can blame him?) never enter a field where a bull is in residence, or might be in residence. You cannot be too careful!!
You might also see foxes, badgers, hares, rabbits, reptiles, snakes, (yes, including Britain's only poisonous snake, the adder - watch where you are standing especially on warm sunny days) squirrels, butterflies and moths, birds of all kinds including beautiful green woodpeckers and assorted birds of prey, and more besides. The forest is truly a haven for wild and semi wild animals.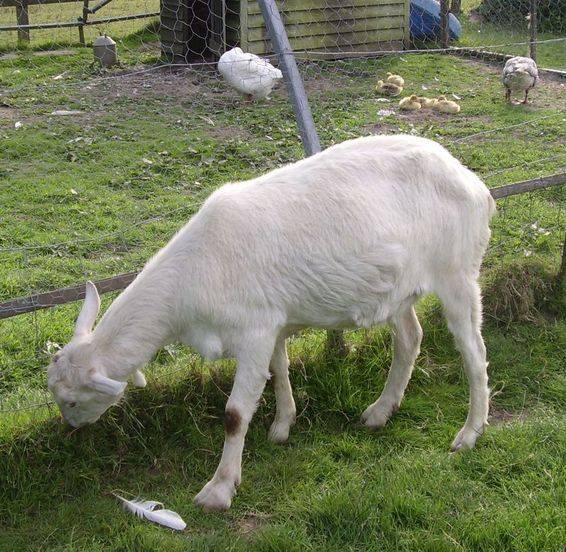 This goat was expecting a kid and happily took food from my hand (as goats do!) Extra strong mints seemed to be her favourite. But do remember never to feed the ponies in the forest. Note the geese and goslings in the background.
Driving through the New Forest, particularly at night, can be a hazardous business, as animals often choose to doze in the middle of the roads, especially the newborn foals in May. Mandatory speed limits of 40 mph are imposed throughout the area, but they are not always abided by, and unfortunately accidents and casualties are still an all too common occurrence.
Ponies also have a habit of congregating under railway bridges as well, all too often standing the middle of the road, especially during wet weather; so do look out for that.
Hiring a bike is a great way to see the forest and as a bike is almost silent you have a better chance of stumbling on wildlife which is often when you will see the creatures of the forest. Bikes can also take many paths and tracks that cars simply cannot follow. You can hire bikes in most of the forest towns.
Every autumn the ponies are rounded up, a practice that has gone on for centuries, and the roundup is known locally as the Drift. The ponies are rounded up for several reasons. Firstly they are wormed and branded to denote ownership, and their tails are cut in a specific way to show from which area of the forest they have come.
All the ponies are owned by the Commoners, they are the people who live within the bounds of the Forest. These ownership rights are ancient and jealously guarded and are passed down from fathers to sons and daughters.
The Drift also sees many of the new season foals weaned from their mothers and they may be sold off and even exported.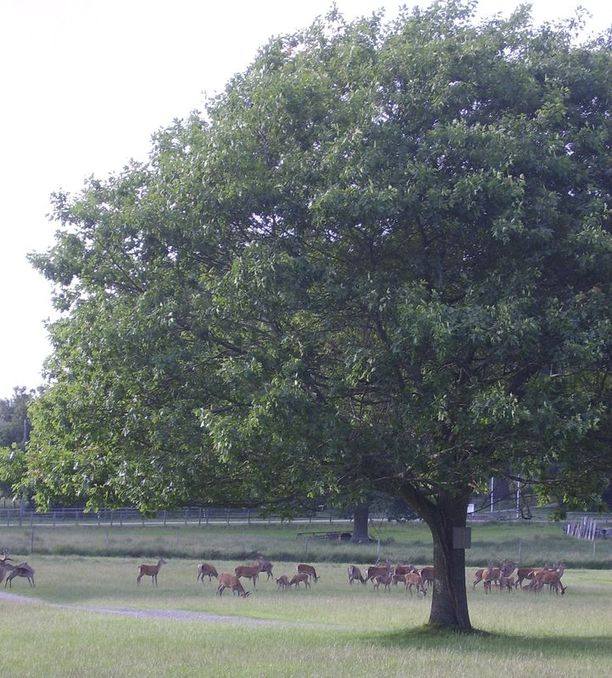 One of the best places to see the Drift is beside Beaulieu Road Railway Station where permanent pens are established specifically for the purpose. There is a nice hotel there too. You can actually watch the spectacle from your bedroom window should you be so inclined, and look out for the rabbits that frequent that area too!
To suddenly come across hundreds of wild horses being herded into pens to be checked and sorted is a sight and sound most of us will never forget.
The Drift is organised with almost military efficiency by the Agisters from their headquarters in Lyndhurst. The Agisters have many powers, including the authority to order any owner to remove any animal from the forest if it is seen to be in a poor condition.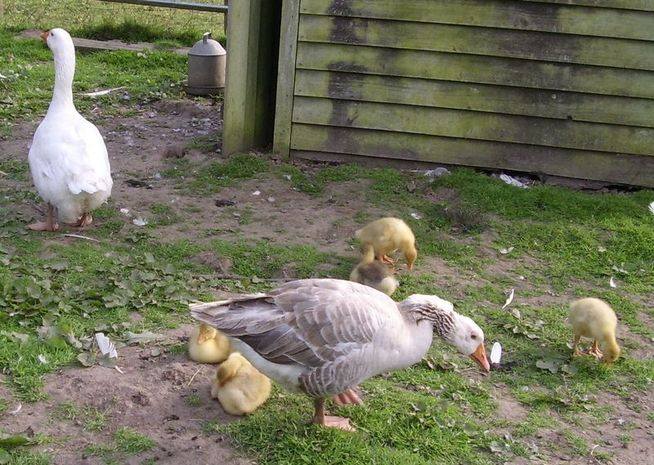 Here's a better picture of those geese and goslings filmed at Burley
Once the Drift is finished and every horse is catalogued and branded, those that are to remain are returned to their part of the forest and the hectic day is soon forgotten, and the horses are left in peace until the following autumn.
If you'd like to visit the New Forest and witness The Drift the best places to stay, as I mentioned earlier, are Brockenhurst, Lyndhurst, Beaulieu, Burley, Fordingbridge, or Lymington, all of which are small and interesting country towns.
Lymington has the added bonus of being a sailing centre too, (and you could even take the fairly short ferry trip to visit the Isle of Wight) or for a larger base, try Salisbury just over the border in Wiltshire. You'll have a great time there, and don't forget your cameras, and of course a raincoat! This is England after all
If you are interested in all things rural, agricultural, and country, you might want to consider paying a visit to the New Forest Show. The 2014 show takes place on 29th, 30th and 31st of July, and is always a highlight of the country season. You'll find the huge showground on the Lyndhurst to Brockenhurst road on the right hand side as you are going south.
If you are interested in books and stories of the woodland creatures do have a look at my book Drift and Badger and the Search for Uncle Mo if you haven't already done so. You'll find loads of info on that and an excerpt for you to read by clicking right here.