Free Thrillers & Murder Mysteries For You here Today
Posted on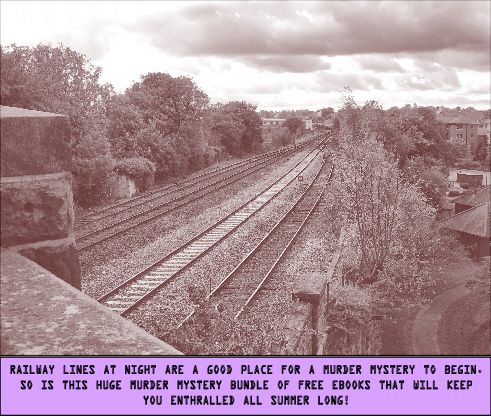 Murder Mystery novels can start in many cold and desolate places and railway lines are not an unusual location for that. Everyone knows there is danger there. One moment there is cacophonous noise and flashing faces passing like ghosts in the night, and the next, a cold eerie silence where an owl hoots as the mist comes down.
It's easy to trip and fall on those steel rails, to catch one's leg in the tracks, to tumble on electrified lines, and if one is tied or chained to the tracks imagine the terror one would experience as the rain hurtled closer and closer.
In my novel "The Murder Diaries - Seven Times Over" there is not one but two suspicious deaths on the railway lines. You can read more of that here. eReader for the summer (or the winter if you live on the other side of the planet!) and find some thrilling stories here that will suit you best.
But I have no idea if any of the forty plus books in this latest thriller giveaway include any scenes set on railway lines, though don't be surprised if they do.
One thing I do know is that every one of these books is quite free to you, dear reader. How can that be? How and why would these hardworking indie writers give away their books for free?
The answer lies in that these writers would like you to sample their work and maybe at a later date purchase another of their tales. It's a win win situation. You get free books and free entertainment. The writer gets new potential readers.
So fill up your kindle or computer orBut always remember this: Never visit railway lines at night for you just never know who might be lurking there, and with what intention in mind. Go home, lock the doors, settle down and read another thrilling story and live to read another day. Toodlepip!
If you'd like to check out this huge bundle of FREE murder mystery and thriller-type books you can do that by clicking here now.