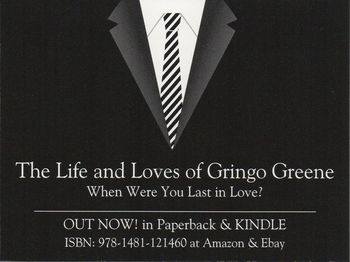 The Life and Loves of Gringo Greene - Book Review 2
David Carter sits very comfortably with this change of genre which is only to be expected from this highly observant, quick-witted, intelligent author whose sense of humour well permeates this particular work of modern fiction. The protagonist, Gringo Greene is a well constructed, thoroughly believable, egocentric testosterone-driven character with only one thing on his mind; particularly since the departure of Glenda Martin from his workplace, Dryden Engineering. To compensate, he plots, plans, connives, never missing an opportunity to consecutively manipulate all manner of females of varying ages into his bed on a Saturday night.
Of course Gringo Greene is a bit of a catch with that well manicured moustache and for the most part he doesn't have too much difficulty getting his way. Yes, he's certainly a good-looking guy who takes great pride in his appearance and for the pleasure of his company which is nearly always designed to include the ultimate experience, Gringo Greene expects his ladies to do likewise. Three strikes and they're out if they don't conform to his very strict dressing requirements.
Carter paints a highly entertaining scenario with contrasting characters constantly in and out of Gringo Greene's life. From one overly large Brenda Hodges, last reserve, through a series of long-fancied, desirable work colleagues to others he's chanced along the way, often more mature, a bit more savvy, a better match for him, Of course Gringo Greene is the prize catch, for whom of those well succumbed to his charms wouldn't want him for their husband? Marriage? Oh no, not for him! Not for Gringo Greene, he's as slippery as a satin slip slid to the bedroom floor.
However as the story progresses one's wondering if he hasn't been just a bit too clever and taken on more than he can chew, for some of his lovers appear to be quietly outwitting him.
I have to say I've never had so much fun finding out! Carter has shown his true talent in the writing of this book. In its easy style it simply bounces along, every page sheer entertainment, compulsively turned but at the same time I found myself grateful for the sheer length of this chunky, fun-filled book because I never wanted to reach the end. I feel sure readers will be hankering after a sequel, or a prequel as Carter puts it and I hope the author will oblige.
From the start the reader readily engages with the characters, the context, the setting, the story. With its low-key running plot gradually stepping up as the story progresses, Carter has the balance just right for he allows no distraction from each of Gringo's lover's own tales. This has got to be one of the most fascinating books I've ever read, for Carter has the knack of placing the reader in the thick of it. One is hardly aware one is reading, the experience of interacting with the characters is strangely powerful, and I read this with the ease of watching a film.
I congratulate the author on this work for it takes a very clever author to be able to hold the reader's fascination continuously in this way. He has created s superb male 'slick-lit' character in Gringo Greene and the work has much to commend it. Within its genre, it's one of the best books I've ever read and it goes without saying I highly recommend it, without reservation.
ISBN: 9781481121460
Publisher: TrackerDog Media 2013
Available in paperback and on Kindle
Reviewer: Margaret Henderson Smith
Copyright - all rights reserved
And if you would like to read another review on Gringo Greene you know what to do - click here