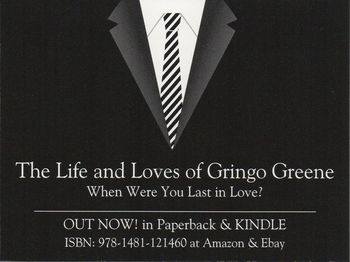 The Life and Loved of Gringo Greene - Book Review 3
"The Life and Loves of Gringo Greene" is a delayed coming-of-age story—the tale of one man's journey from a life of disconnected, meaningless sexual encounters to emotional maturity. Gringo is the stereotypical modern-day London Lothario—attractive to women, possesses enough money to impress them on fancy dates, has an impressive flat and a good job.
He also demonstrates an exceptional capacity for juggling a string of women—the overweight Brenda, the exotic but sweet Maria, the married Melanie. And at first, he seems convincingly content with his life—the only unhappiness he seems to feel is that the beautiful Glenda has quit Dryden Engineering and gone to America to shack up with a businessman named Harry.
As the novel goes on, his happiness with his lifestyle becomes less convincing, and his control over both his conquests and his emotions begins to slip. His women become less docile, no longer willing to be his doormat or sexual stopgap, and as they assert themselves and seek their own happiness outside of his arms, he is forced to connect with his own emotional core and, frankly, grow up.
While I was interested in the first third of this novel, it was more from the position of a detached observer. As a woman, I didn't particularly understand or like Gringo in the first part of the novel—he was too slick, too much of a player and a user.
I had much more sympathy for the women in his life, especially Maria. She was sweet, young, and hopeful, and Gringo's absentminded treatment of her was appalling. I will note, however, that I didn't always understand the women—their motivations were often unclear. For instance, why was Glenda so intent on being with a man who abused her? She treated him as a trophy to be won, ignoring the abuse issue in her quest to get married. Also, why was the newlywed Melanie so nonchalant about cheating on her husband? Issues like that weren't explored, and I wish they had been.
That being said, I really enjoyed the novel once Gringo's tight hold on his life and emotions began to unravel. His confusion and upset over all his women leaving him and moving on, one by one, as well as his slow realization that he can and does love someone other than himself, is a fulfilling experience.
The novel is well-written and the author has a knack for enjoyable dialogue; there are also some truly amusing glimmers of humor thrown in. In the end, I found it to be a positive, even feel-good read—I was pulling for Gringo to find happiness, as well as for the women he loved and lost to find their own happiness. In fact, it reminded me strong of Stephen Sondheim's "Company"—Gringo is similar to the disconnected, apathetic Roberts, who eventually wakes up and realizes you need more than yourself to truly be alive and find happiness.
I'd certainly recommend "The Life and Loves of Gringo Greene" for readers who enjoy character-driven novels with a strongly-drawn protagonist and interesting, sympathetic secondary characters.
Review written by Erica Lucas.
Gringo Greene is available now on Amazon as a paperback and also available on KINDLE.